PASSION. QUALITY. PERFECTION.
At James Litho we are passionate printers, bringing artisan quality and skilled perfection to everything we make. We are craftsmen in our trade with years of wisdom, and we are proud of what we do. In an age when you can read an entire book without turning a tangible page, an exquisitely printed piece demonstrates a thoughtfulness and intent that sets it apart and gives its message more weight. We've drawn a line connecting technology with tradition, and that's where we create.
LITHOGRAPHY
Brochures, catalogs, postcards, data sheets, packaging, hang tags, business cards, stationery, and labels.
DIGITAL WIDE FORMAT
Our cutting edge flatbed UV press can print on glass, wood, fabric, metal, paper, plastic, and vinyl—you name it and we can print on it. Point of purchase displays, trade show graphics, signs, banners, posters, packaging prototypes, and retractable banner stands.
SHORT RUN DIGITAL
Fliers, data sheets, business cards, brochures, catalogs, invitations, variable data, announcements, and more.
TRADE SHOW GRAPHICS
Booths, banner stands, posters and more!
LAYOUT & PRODUCTION
Need an idea brought to life, or just a couple of changes to an existing piece? Our art department can help.
Behind the Scenes at James Litho
When you combine the latest equipment and digital machinery with decades of experience and incredible attention to personal service, you get a company that will never let you down.
Watch our video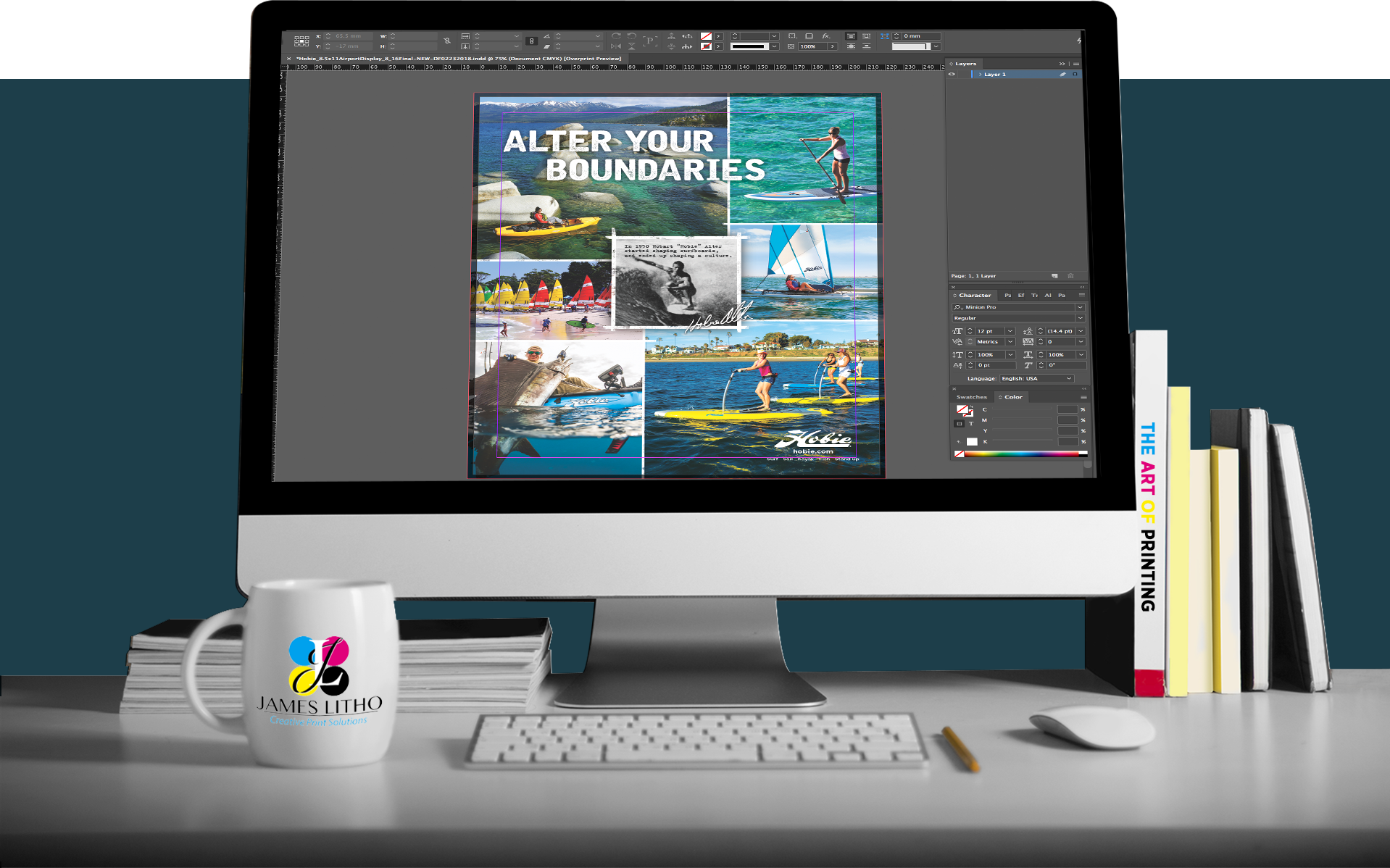 Printing done right the first time.
The education and experience under our roof is unsurpassed in our industry. Our pre-press team are experts in file management. Our press crew are true artisans and craftsmen. Our packaging department is highly conscientious in getting your job prepared for long distance travel. Each associate grasps the importance of staying in touch with you, honoring the budget and meeting every single deadline. Nothing you can throw at us will make us flinch.
Design & Setup
The Prepress team is at your service, and will assist you with everything from design advice to the most technical questions you may have.
Proof & Approval
We make sure you're provided with the most accurate proofing materials available,  and that we have your official approval before starting any projects.
Finish & Ship
James Litho is fast. We will complete your project on time, and deliver direct to you or anywhere it needs to go. Fulfillment? Nobody better than James Litho.
"I have been using James Litho for a number of years now and they have been a great partner for all of our printing needs. Their customer service is second to none. Anytime that I have a change, or special request on a print job, they get back to me in a timely manner and let me know that it will be taken care of. In addition, when I am in a time crunch and need to get business cards to an employee ASAP for an upcoming trade show, convention, or meeting, they always work with me to ensure that my rush orders will arrive in time for the event. James Litho is one of my most trusted vendors, and I would definitely recommend them to anybody."