James Litho had the opportunity and privilege of working with Nathan Bell-Schieppati of "The Black Bird Project",  aka //BLKBRD//,  along with Master Craftsman Shawn Maclachlan on the HANG TEN Headwear booth. The booth was created for the MAGIC Tradeshow which took place in Las Vegas last month.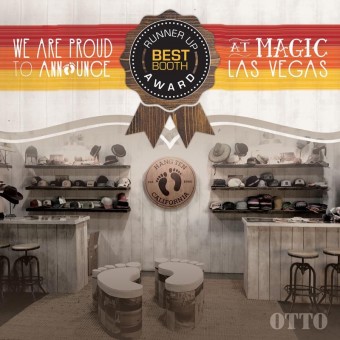 James Litho provided the printed adhesive fabric on the custom HANG TEN foot print couches. Yep, those are sofas in the shape of a foot right there in the middle of the booth. James Litho also supplied the print-to-wood pieces under the glass of the counter tops, as well as the print-to-wood inserts of the shadow boxes.
This booth was amazing to see and a great marketing tool for the company!
And (drum roll please)  the booth won the "Best Booth Runner Up Award" out of the 3,500 exhibitors attending the show!  Congrats to HANG TEN Headwear for the epic work!
James Litho enjoyed the creative collaboration and opportunity to contribute the James Litho quality and professional service to this award winning project.