Here at James Litho, we take pride in working alongside our clients on projects that push the boundaries of the traditional print medium – especially when it's for a good cause. Check out a recent example of how  we partnered  with DARPA, thinking out of the box, and the conclusion is a concise, visually stunning, effective communication tool that leaves an impression on those who see it.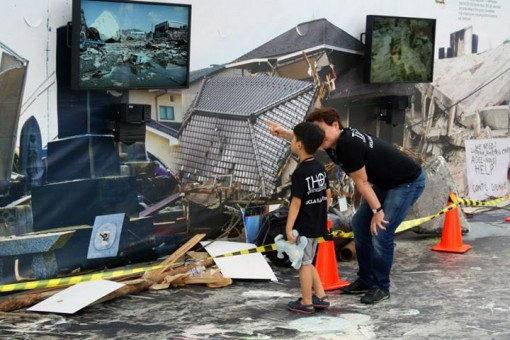 Businesses like to focus on success. We do too. But in real life disasters happen. Man made, or natural, disasters will wreak havoc. James Litho teamed up with  the organizers of the DARPA (Defense Advanced Research Projects Agency) Robotics Challenge to design a trade show back drop that simulated a real life disaster scene.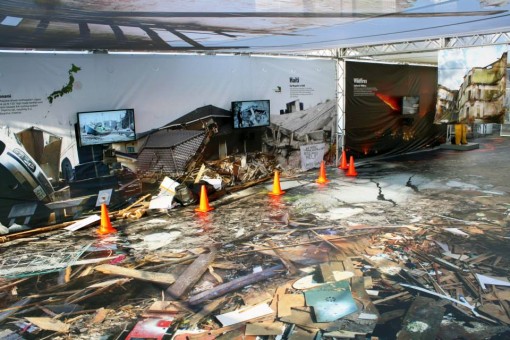 This challenge is funded by the U. S. government and is aimed at spurring innovation in privately owned robotics companies to develop semi-autonomous ground robots that can do "complex tasks in dangerous, degraded, human-engineered environments". These consist mainly of disaster or emergency response scenarios where humans aren't physically able to go, such as burning buildings, chemical leaks, bomb threats, etc. Simply said, these robots go into disaster areas, unsafe for humans, and assess the situations, look for people and more! After wide ranging trials to determine the best model, the winner of the contest was then given a $10.9 million dollar grant to develop these robots for real world use. Such a great cause, and you can imagine how grateful you would be if one of these robots was able to save one of your loved ones! Below is a photo of the winner, DRC-Hubo, turning on a water pump in order to put out a fire during the challenge: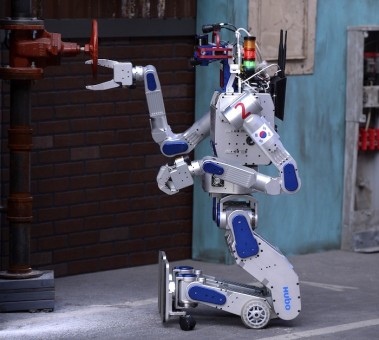 Our task: create the look and feel of an actual disaster scene. We also wanted to deliver DARPA's message clearly: It is crucial for modern societies  to develop technologies that will not only make things more safe for everyone but serve as the last available option to save a life in need. To accomplish this, we created an experience where it feels like you are walking into a real disaster area, complete with debris to navigate over, broken down buildings, water leaks, and other common occurrences which have been recently seen in places like Haiti after they experienced the 7.3 magnitude earthquake, and in Japan after the tsunami hit.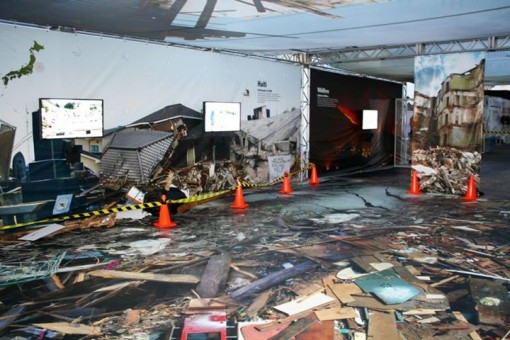 We worked with DARPA to get hi res images of real disaster scenes and created huge, lifelike floor and wall graphics that were installed on concrete leading up to the trade show exhibit. The result was a huge success, attracting a ton of prospective companies and interested consumers alike. Check out these images from the show, keeping in mind that we printed these reproductions of disasters!
As you can see from the above images, the only limit to what we can do is your own imagination. We take pride in working alongside our clients to create new and fascinating print material that will leave an impact on the target audience. Contact us today to find out how we can work with your company to create and define your brands image and products. jameslitho.com
Sources:
http://www.darpa.mil/
http://spectrum.ieee.org/automaton/robotics/humanoids/darpa-robotics-challenge-amazing-moments-lessons-learned-whats-next
https://en.wikipedia.org/wiki/DARPA_Robotics_Challenge
https://en.wikipedia.org/wiki/DARPA