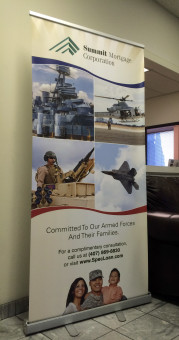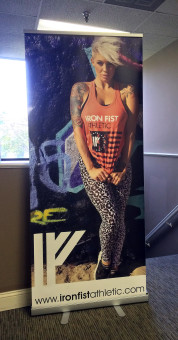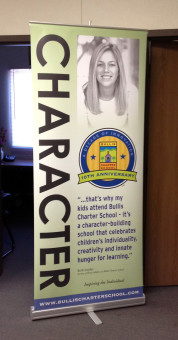 Banners and Signage
Share your message up close and in person with banners and banner stands. Banner stands are affordable, portable and easy to transport and set up. Your banner stand can promote your product in your office lobby, then be packed up and ready to wow at a tradeshow the next morning.
The rise of digital printing has given companies of all shapes and sizes the ability to effectively communicate their marketing message in a variety of ways without having to spend a fortune doing it. This is especially relevant in signage and banner stands, where forward thinking companies are leveraging the opportunity to attract attention, drive up-sells, and influence purchasing decisions by taking advantage of the technology that's available today. James Litho will work with you to create branding that will reach your target market and beyond. Here are some benefits to this type of marketing:
Versatility
These signs or banners are most effective when used as a snapshot of your marketing message, and are designed to garner the attention of potential customers. Whether you are having a sale, want to announce an event, or promote your booth at a trade show, they enable you to extend your message and reach the target audience wherever they are.
Durability
Aside from being lightweight, portable, and easy to install, these signs are resistant to any type of weather they are exposed to without having their colors fade or message be obscured. This gives you the ability to leave them up for long periods of time, as well as take them down and store them without taking up too much room. With proper care, they will last for years and can be reused as much as you want.
Quality
Prior to the advent of digital printing on vinyl, creativity with these signs was very limited. They usually only consisted of a block of text and a handful of colors. Nowadays we are able to produce perfect quality, professional looking banners that allow you to use millions of colors to create a sign that looks as good as any magazine print would look. The only limitation is your own creativity.
Cost and Time Effective
Last but not least, compared to other types of printing these banners offer the longest lasting, cheapest form of advertising that money can buy. With a single investment, you can provide years of promotion for any type of service or message. On top of this, printing a vinyl banner only takes a few days, and can be rushed for anything that may come up at the last second. Banners with the stand range in cost from $275.00 to around $500.00. So you can see this is a budget friendly marketing option.
Banner stands work well outside your business, in your lobby, out in the community at relevant events and of course at trade shows.
With almost 20 years of experience in signage, we'll work with you to determine the best way to present your brand's image using this simple but effective placement.      jameslitho.com