Is your business working on some big projects? Are you looking for a printing company than can accommodate large sizes and high-volume? We have good news for you! James Litho has recently acquired a high-end Agfa printer to handle our wide-format job requests: the Jeti Tauro H2500.
A heavy-duty printer, the Jeti Tauro is able to print on a variety of rigid and flexible materials (e.g. paper, styrene, corrugated cardboard and corrugated polypropylene), which makes it great for all kinds of applications. It is ruggedly built to withstand intense workloads, and can run day and night. The H2500 also makes the most of automation, and is able to load and unload boards automatically, as well as handle roll-to-roll printing.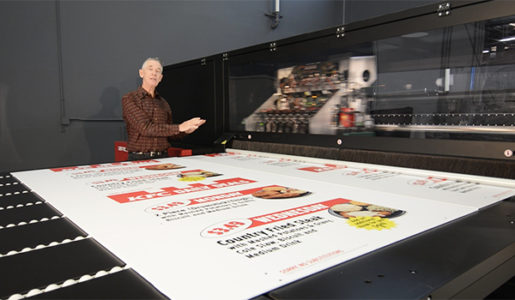 The Jeti Tauro uses Agfa's excellent high-pigment UV inks, which produce eye-catching prints and long-lasting color. Many large-format print projects are meant for long term displays and signage, and it's great to know that the vividness of your designs will stand the test of time. There's also an ecological benefit to the UV inks used in the H2500—the high pigmentation means that less ink can be used and still give you great color. Less ink, less waste, and greater efficiency. The UV ink is also cured using LED lights, which consume less energy and last longer than regular lights. Plus, no mercury in the LED bulbs is just one more environmental benefit.
Regardless of what your large format printing needs are, James Litho can utilize our Jeti Tauro to meet them. It is versatile enough to produce a wide variety of projects, and the assortment of materials it can print on makes it perfect for so many of your business needs: banners, posters, signage, exhibit graphics, POP, mockups, backlit, front-lit, labels, stickers, etc. It can also be used for niche applications such as wood, art reproductions, architectural and interior decoration and more.
No matter what your large format project is, James Litho has the latest technology and experienced ability to handle it. This latest investment in our business is just one example of how James Litho is always striving to improve our processes, our capabilities, and the service we can provide to our customers. Contact us today and find out how we can help your business.